Da, imaju gafove i ispade, ali kad McDonalds uči na greškama to pršti na sve strane. Ovo je jedan od odličnih Social Media primera o kojem će se tek pričati.
Trener Minnesota Vikingsa Mike Zimmer imao je ne baš dobru nedelju jer mu tim nije bio u tip top formi, a posle napornog i iscrpljujućeg treninga nije uspeo ni da se najede kao čovek. Naime, želeći da napravi štos i slikovito opiše kakva mu je bila protekla nedelje, trener Zimmer je pomenuo da je na putu do kuće svratio do McDonaldsa po dva čiza i dobio samo jedan:
Trener je to izjavio 8. decembra i mediji su brže-bolje od toga napravili vest i podelili je na društvenim mrežama. Dan kasnije, 9. decembra McDonalds Minnesota obradovao je i trenera i fudbalere Vikingsa sa 100 besplatnih burgera: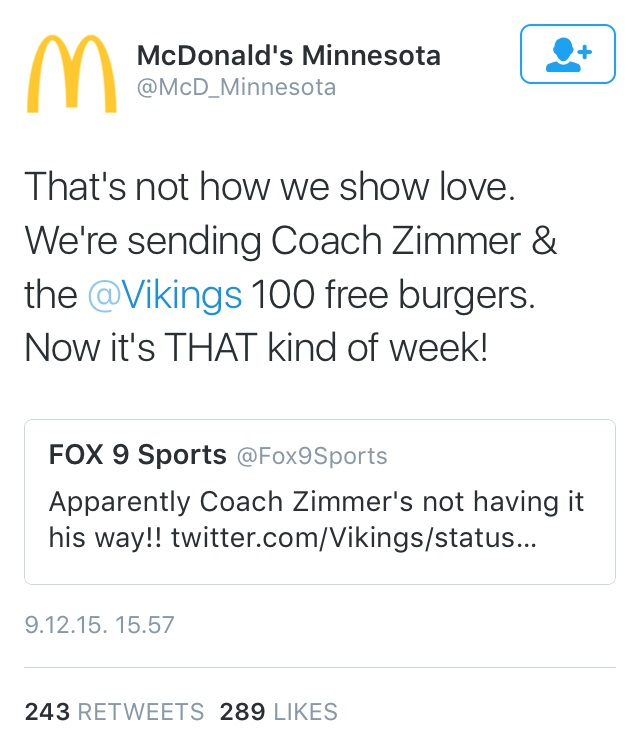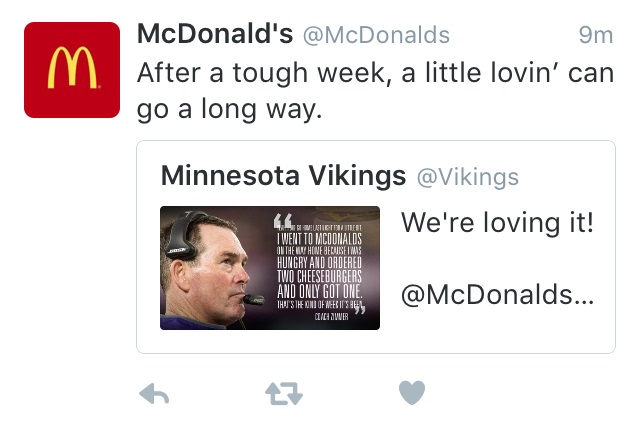 Naravoučenije?
Uvek budite u pravo vreme na pravom mestu jer drugačije ne možete biti u prilici da gasite požare i negativni PR.
This post is also available in: English